BY JENNIFER WARFEL JUSZKIEWICZ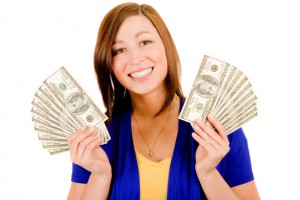 Tina Cook Franks, a manager at Granger Jewelry and Pawn, remembers the day, years ago, when an elderly widower came into her store. She was working at a small mom-and-pop pawnshop at the time, and she is a skilled appraiser. The old man came up to the counter and explained his situation.
He and his wife had never had much money, but they had raised a family and owned their house. Now his wife had passed away, and the house was falling apart. It was all he had, but it wasn't much. He needed a new roof, furnace, water heater – the works. He didn't have enough savings to cover the expense.
"What could I do?" Franks wondered, "What could he have brought with him that would possibly get him enough money to pay for all those renovations?"
He brought out a series of boxes, his wife's collection of costume jewelry, gathered from years of garage sales and thrift shops. Franks opened the boxes, poring over his items, cataloguing and appraising each one. When she was done, she turned to him and made him an offer.
"When he learned that the jewelry was worth enough to pay for all of the repairs, he called me his angel and broke down crying. He thanked me for being so honest," Tina recalls. This is her favorite memory from years spent as a pawnbroker.
Pawning Through the Ages
Pawning isn't new. Pawnshops have been around since the 19th century. Charles Dickens wrote an entire short story about them. To pawn something means to leave something of value in exchange for a small loan with interest. Back when pawning began, people would pawn everything from jewelry and silverware to clothes and tools. In the landmark 1948 Italian film "Bicycle Thieves," the protagonist even pawns his wife's bridal linens so he can buy a bicycle and get a job to support his family.
Partially because people often patronized pawnshops during times of great need and distress, leaving the objects they most valued behind, pawnshops developed a rather negative reputation. Dickens certainly didn't care for them.
However, even Dickens admits that there are different levels of pawnshops – the higher-end ones in his time often had back or secluded entrances, so people could conduct their business privately. Improved laws made the institutions more reputable as well.
And one must admit that pawnshops serve a purpose. They allow people to liquidate their non-monetary assets so they can meet their immediate needs. Maria Tanksley, district manager of Worldwide Jewelry and Pawn (WWJP) in South Bend, notes that "40% of people do not have a relationship with a financial institution. We help them when they need extra cash."
They are, as in Dickens' time, discreet and courteous. And, lately, they have become superstars. The next chapter in the pawnshop history has been, ironically, televised on the History Channel. The show Pawn Stars features three generations of the Harrison family: grandfather, father, son, and son's dopey friend, all working at a successful pawnshop in Las Vegas.
The show is a certifiable hit, and other stations are trying to get in on the action. In May of this year, The Learning Channel found what they thought was a new angle, creating the show "Pawn Queens." The show follows two women and two men at their pawnshop in Naperville, Ill. After all, who would ever think of women working in a pawnshop?
Pawn Queens? Really?
TLC is a bit behind the times. Women have worked in pawnshops at least since that short story by Dickens; he mentions a female pawnbroker. However, it is true that women have certainly been underrepresented in the field.
The National Pawnbrokers Association (NPA) says women are more common now than in the past: "The number of women pawnbrokers has grown in the last decade, as well as their involvement as advocates for the industry on a regional, state, and national level."
One of their members, Ramona Thompson, remembers a time when she was the only woman on the NPA Board of Directors; now they make up more than 10% of the members. Steps are certainly being made to acknowledge the contributions of women to the field.
In our area, there are quite a few women working and managing Michiana pawn shops. These women include the aforementioned Tina Cook Franks and Maria Tanksley. Franks comes from a family of auctioneers and antiquarians, and Tanksley began her career as a pawnbroker after working in finance management. Tanksley says that this is typical: many people come into the business from a retail or management background.
Both women strive to set their shops apart from the stereotype that Dickens propounded. "Our WWJP stores are clean and our staff is friendly, well trained and knowledgeable," says Tanksley.
"Granger Jewelry and Pawn feels like any other jewelry or fine goods store," Franks brags, "except that everything is for sale."
That's the Ticket!
Everything is not only for sale, but it's drastically reduced from retail prices. Franks says that you can buy the same ring at her shop as you can at a standard jewelry store – without the high retail markup. Tanksley explains, "Since our merchandise is priced 50% below retail, we can offer families a bargain when shopping for items they need."
Both women have noted the business has increased since the recession. People still want the fine goods, but they go to pawnshops in order to save money on them. Plus, they may have even more variety at a pawnshop than at a standard store. For example, if you are looking for an engagement ring, a pawnshop will have modern options, but they may also have an antique Victorian ring, one that suits you and your unique style perfectly. This also goes for those interested in furniture or fine home goods.
Plus, now that more women are working at the shops, you will have the added bonus of a feminine eye. Consider this, explains Franks, "If a woman comes into a shop and says, 'I want a necklace for my 12-year-old daughter, something pretty and delicate,' a female clerk is more likely to know what she wants than a man."
This is a bonus: women with a love of people, working knowledge of antiques and jewelry, and desire to learn have new opportunities in this business.
A Safe Bet
Also, for those who are moving, downsizing, or in need of extra cash, the pawnshop is the way to go. You can sell the old ring your Aunt Martha gave you, the one that snags on everything when you wear it. You can get rid of the neon green electric guitar you know (and hope) your husband will never again play.
Or, if you need to make ends meet until the first paycheck comes in from your new job, consider pawning something of value, and then redeeming it. An advantage of selling gold is that it is now at a premium, so you may get more than you expected. Since the economy tumbled, many people are bringing in old gold and silver; it has served as a backup savings account for them.
Plus, pawnshops provide secure transactions for both sellers and buyers since they are tightly regulated by the state. If an item is sold to the shop, they have to hold it for more than a month. If it's pawned, they still have to hold it for more than a week. Brokers abide by strict identification and fingerprinting laws for security purposes. Contrary to the stereotype, pawnshops aren't fences for stolen goods.
So, if you need to sell an item that's perhaps too good for a garage sale, consider pawning it instead. It's less of a hassle than using an online store, such as Ebay; it's secure, and you have the option to buy it back if you return within a certain amount of time. And while you're there, you may just meet one of Michiana's own pawn queens greeting you from behind the counter.
Tina Cook Franks can't recall a time when she wasn't trading. Her parents were traders, auctioneers, and appraisers, so she naturally fell into the business. In particular, she remembers being seven and buying items from garage sales, scrapping and then using the proceeds to buy herself a brand-new pair of skates.
Maria Tanksley has been the district manager of Worldwide Jewelry and Pawn in South Bend for three years. Previously, she worked in the financial sector as a mortgage broker and personal banker. She appreciates WWJP's involvement in the community and has participated in their service events.