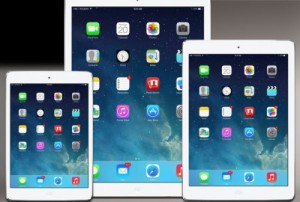 When Steve Jobs announced to the world that the release of the iPad would come on April 3, 2010, most people thought that it was just a larger iPhone – a novelty item that no one would actually want. 6 versions within 5 years later, the iPad has become essential to daily lives of many people and businesses, making it very valuable to pawn shops. If you have an iPad that you would like to pawn or sell, here are a few things you should do to get the highest offer possible.
Backup Your Information
Before you sell, you'll want to backup any pictures, videos, music, or information either to your iCloud or any other external hard drive. You don't want your valuable information and files in the hands of the person who happens to purchase your iPad from the pawn shop.
Restore Your Phone/Sign Out of iCloud
Once you've saved all your information and files to an external hard drive, the next thing you want to do is erase all content on your iPad and restore it to factory settings. Go to settings> hit the General tab>Reset>Erase all content and settings. You'll also want to make sure you are completely signed out of iCloud and Find My iPad.
Packaging
If you have any of the original packaging and accessories that came with the iPad, bring those along with you. Bring accessories like the charger, case, keyboard, or Apple Pen; these are essential to ensuring that you get the highest price possible for your iPad.
Let's Talk Offer Price
It's really hard to gauge what your offer price could be on your iPad because there are so many variables such as generation(age), condition, storage, and if it is cellular compatible, but here's an estimate:
If you have an iPad 1st-4th Generation, you could get between $50-150, based on the condition of the iPad.
In 2012 apple introduced the first iPad Mini, and then the following year the iPad Air and the iPad Mini 2. These could be worth between $150-250.
The iPad Air 2(2014), iPad Mini 3(2014) and Mini 4(2015) should be between $200-300
These offer prices apply only if your iPad is in good condition (minor scratches) to new.
Additional Information:
Before you take it into the pawn shop make sure you clean off any dust or dirt that it may have. You want to make your iPad as new as possible to get you a high offer price.
Have the iPad you wish to pawn or sell fully charged so that when the pawnbroker evaluates it, he can play with it a little bit just to make sure it works smoothly.
By David @Pawnguru